Mailing
It depends on your location, but to help get an idea it's broken down to three general regions.
Canada, should arrive within two week. Shipping is done via a proxy to Canada Post so it takes it a day or two longer to get organized.
United States, should also arrive in a week but give it two weeks due to post office logistics.
International (everywhere else), at the moment orders are expected to arrive within 8 weeks, expect longer due to covid though.
Q. Is there tracking for my order? For Canada and the United States yes, you should receive one with the e-mail confirming your order is shipped. International orders don't come with tracking by default but may end up with tracking if the package is shipped by Asendia.
So orders go through Chitchats first which is a E-Commerce shipping solution based in Canada. From there they are handed off to Canada post or USPS depending on where you live and which shipping method you chose in checkout.
We are able to ship to most countries though if you feel uncertain about your specific country you can e-mail us about it and we will be able to confirm with you if we could.
All non pre-order orders are packed the following day the order is made (so if a order is made Monday it is packed on Tuesday). Typically orders made from Tuesday to the following Monday are mailed out on the upcoming Wednesday as illustrated here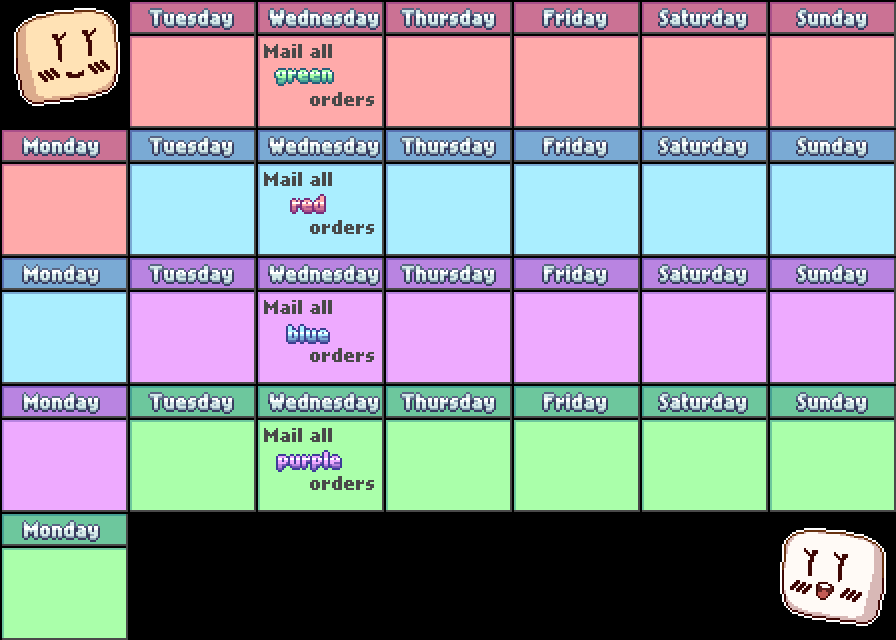 Occasionally orders made on Tuesday and Wednesday morning are mailed out the same week, though this depends on how busy the packing schedule is.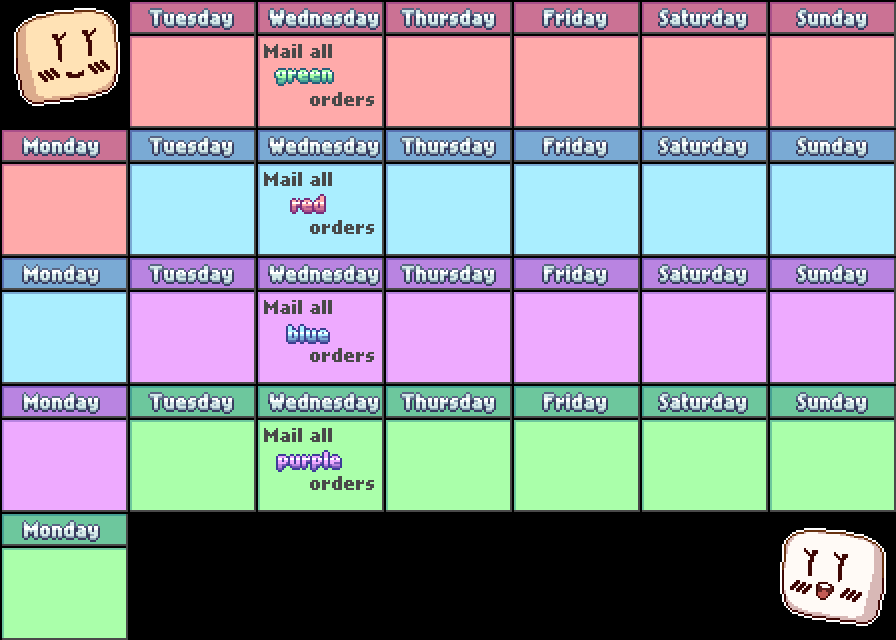 Artists/ Business
Q. Hey I'm an Artist/ Animator / Comic Creator / Game Dev / vTuber who wants to make merch. Who do I contact?
You should contact [email protected], then we will get back to you to see if this is something that will be good for you. Alternatively you can join the MosoBox Discord here and yell at Moso#9673
————————————————————————————————————————————————————————————————————
Conventions
Q. Which conventions will you be attending?
Honestly, at this point it's all up in the air
————————————————————————————————————————————————————————————————————
You can contact us at [email protected] if you have any questions or feedback. Otherwise, you can stay up-to-date on general order statuses by checking our Facebook or Twitter.